Have you tried Weekend Brunch at Bad Habit Room?
Tuesday, March 25, 2014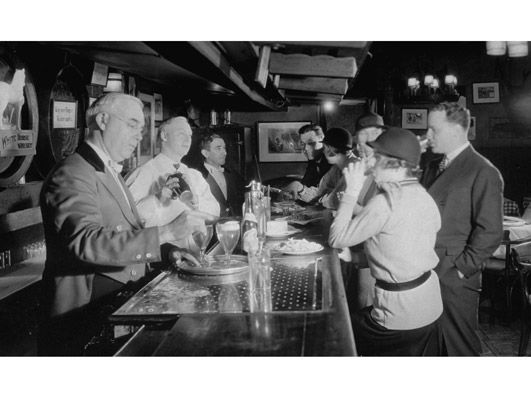 If you haven't heard Saraveza's Speakeasy now serves brunch… Weekend Brunch with a Packer Problem.
This January the Packer Problem has taken care of itself and brunch is game free until NFL season 2014/15.
We are very pleased to introduce chef Matthew Simons as he opens Bad Habit's doors for a.m. delights, every weekend 9am-2pm.
What's on the menu?
POP TART – Our made-from-scratch Pop Tart will transport you back to Saturday mornings as a child. Check for our festively decorated weekly flavor.
CINNAMON BUN – Start with an American favorite. Unraveling a big sticky roll while you wait for your meal.
WAFFLES – House made buttermilk waffles served with brandy compound butter, walnuts, real maple syrup, whipped cream & apples.
BREAKFAST BURRITO – Pinto beans, scrambled eggs, cheddar cheese, carmelized onions, avocado & pico de gallo wrapped in a flour tortilla. Served with a side of chipotle cream.
BISCUITS & GRAVY – SugarPimp's buttermilk biscuits and our country gravy topped with caramelized shallots and herbs.
EGGS BLACKSTONE – Bad Habit's Benedict kills it! Poached eggs, Saraveza bacon, roasted tomato jam & hollandaise over SugarPimp's beer bread with salt & pepper potatoes and greens.
CORNED BEEF HASH – Two poached eggs atop house cured brisket tossed with hash browns, sweet onions & roasted carrots. Served with a side of beer bread and preserves.
GRANOLA – Brandy roasted granola on Greek Yogurt with seasonal fresh fruit and honey.
Plus A.M. COCKTAILS!
WISCONSIN TRANSPLANT BRANDY OLD FASHIONED: We make this classic with De Montal Armagnac, Amarena Cherries and fresh oranges. Served neither sweet nor sour, just serious.
BOURBON OLD FASHIONED: Bull Run Temperance Bourbon & orange twist.
BLOODY MARY: New Deal Portland Vodka and house mix, pickle skewer & celery stalk.
STRONG & BLACK: Red E coffee, Red Wing Coffee Liqueur and Flor de Cana 7 Yr Grand Reserve Rum with whipped cream.
SCREWDRIVER: New Deal Portland Vodka and fresh OJ.
CAVA MIMOSA: Torre Oria Cava and fresh OJ.
Tweet this